The LYA Team brings expert auction preparation and support experience and expertise across different auction formats.
LYA's Auction Platforms include a full suite of formats in use across various applications including Simultaneous Multiple Round Ascending Auctions (SMRA), Combinatorial Clock Auctions (CCA), Clock Auctions, Reverse Auctions and Sealed Bids auctions and their variations.
LYA's Auction Platforms handle auctions with a large number of items, targeted at supporting bidders in high-stakes auctions. The platforms run fully automated simulations to support evaluation of complex rules and to test bidding strategies, and to enable bidders to conduct mock auctions as part of training. LYA's Platforms have been designed to handle a large number of bidders, a large number of items for sale, and variations on rule sets.
Robotic bidders are programmed to bid competitively in an auction. The robots can be set to exhibit a variety of behaviours, bidding on specific packages or item by item. The robots are designed to compete with each other, while respecting the complex rules of the auction. This permits users to bid into large-scale realistic auctions and gain an understanding and weigh benefits and risks associated with different strategies, bidding tactics and implications for budgets.
Our Auction Platforms are flexible and can be used
for a wide variety of types of auctions.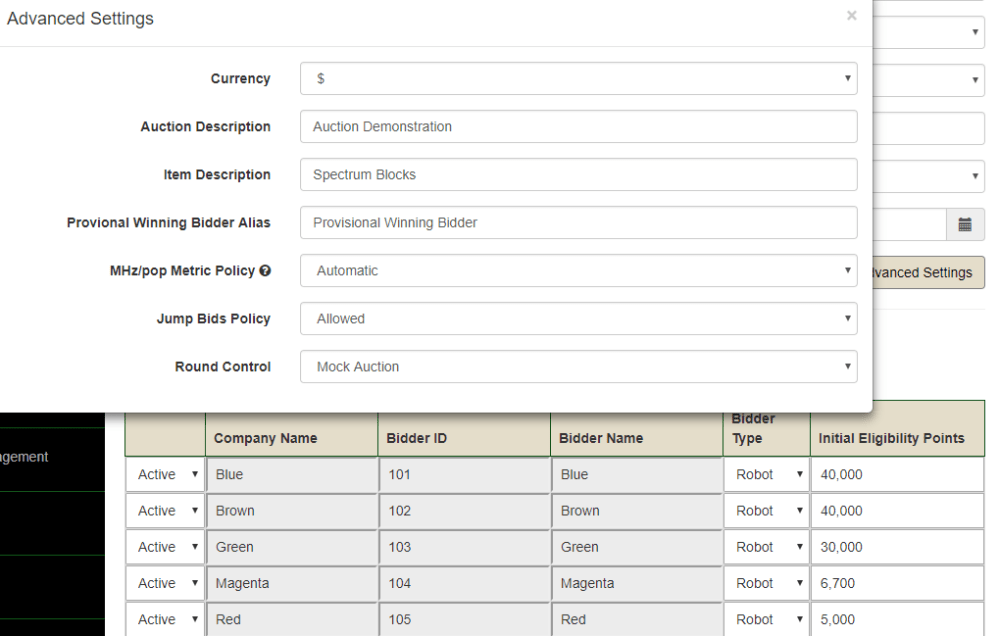 Highly Configurable Rule Sets
Our Platforms are built to allow for large flexibility in rule sets and auction parameters in general, including:
Bidding Caps, Set-Asides, Withdrawals and Fine Calculations

Reserve Prices/Opening Prices

Activity Rules (Eligibility Points, Revealed Preference)

Pricing Rules (First Price Auctions, Second Price VCG Auctions, Core Pricing)

Tie-Breaking Rules for Winner Determination

Stage Transition and Auction End Conditions

Generic Item Attribute Constraints
We can also work with individual clients to implement new rules for individual auction formats.
Mock Auction and Simulations with AI Bidders
Advanced Bidding Metrics and Tracking Tools Built-In
The system generates bidding metrics real-time and round by round reports for bidder and auctioneer analysis.
Item prices and valuation metrics

Activity breakdowns by region and item

Bidder exposure and commitment calculations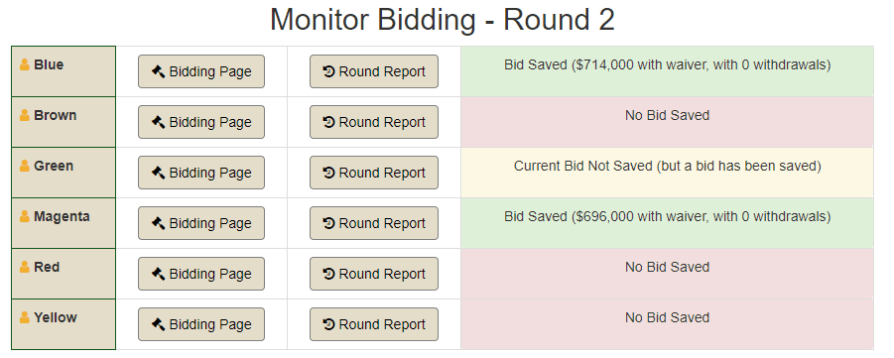 Platforms for Auctioneers and Regulators